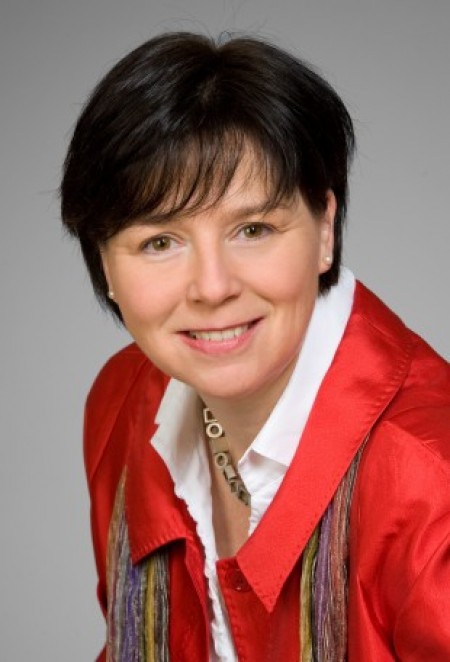 Prof. Dr. Karin Jacobs
Büro E2 9 4.08
E-Mail



Tel: +49 (0) 681 / 302 71788
Fax: +49 (0) 681 / 302 71700

Werdegang
1997 Promotion an der Universität Konstanz
1997 Postdoc am Max-Planck-Institut für Kolloid- und Grenzflächenforschung, Berlin-Adlershof, jetzt Golm bei Potsdam
1999 Wiss. Assistentin an der Universität Ulm, Abt. Angewandte Physik, Prof. Dr. S. Herminghaus
2001 Projektleiterin bei der Bayer AG, Bayer Polymers
2003 Universitätsprofessorin an der Universität des Saarlandes, Leiterin der Arbeitsgruppe "Physik Weicher Kondensierter Materie"
Gruppenleitung
Auslandsaufenthalte
Weizmann Institute of Science, Rehovot, Israel;
Dept. of Complex Fluids and Interfaces, Prof. Dr. Jacob Klein

Ian Wark Research Institute, Prof. Dr. John Ralston
Aktivitäten
Koordination des DFG-Schwerpunkts 1164 "Nano- und Mikrofluidik"
Mitgliedschaften
Verein Deutsche Ingenieure VDI
Deutsche Physikalische Gesellschaft DPG
Deutscher Hochschullehrerverband DHV

Publikationen
2022
J. Mischo, T. Faidt, R. B. McMillan, J. Dudek, G. Gunaratnam, P. Bayenat, A. Holtsch, C. Spengler, F. Müller, H. Hähl, M. Bischoff, M. Hannig, K. Jacobs:
"Hydroxyapatite Pellets as Versatile Model Surfaces for Systematic Adhesion Studies on Enamel: A Force Spectroscopy Case Study";
ACS Biomater. Sci. Eng. (2022) DOI: 10.1021/acsbiomaterials.1c00925 ⇒ Abstract
[ ]

A. Som, A. Griffo, I. Chakraborty , H. Hähl, B. Mondal, A. Chakraborty, K. Jacobs, P. Laaksonen, O. Ikkala, T. Pradeep, N. Nonappa:
"Strong and elastic membranes via hydrogen bonding directed self-assembly of atomically precise nanoclusters";
Small (2022) accepted DOI: 10.1002/smll.202201707


F. Lolicato, R. Saleppico, A. Griffo, A. Meyer, F. Scollo, B. Pokrandt, H.-M. Müller, H. Ewers, H. Hähl, J.-B. Fleury, R. Seemann, M. Hof, B. Brügger, K. Jacobs, I. Vattulainen, W. Nickel:
"Cholesterol promotes clustering of PI(4,5)P2 driving unconventional secretion of FGF2";
J Cell Biol 221 (2022) e202106123 DOI: 10.1083/jcb.202106123 ⇒ Abstract
[ ]

J. Fiedler, K. Berland, J. W. Borchert, R. W. Corkery, A. Eisfeld, D. Gelbwaser-Klimovsky, M. M. Greve, B. Holst, K. Jacobs, M. Krüger, D. F. Parsons, C. Persson, M. Presselt, T. Reisinger, S. Scheel, F. Stienkemeier, M. Tomterud, M. Walter, R. T. Weitz, J. Zalieckas:
"Perspectives on weak interactions in comlex materials at different length scales";
Phys. Chem. Chem. Phys. (2022) DOI: 10.1039/D2CP03349F ⇒ Abstract
[ ]

F. Lolicato, R. Saleppico, A. Griffo, B. Bruegger, K. Jacobs, Ilpo Vattulainen, W. Nickel:
"A critical role for cholesterol in Pl (4, 5)P2-dependent unconventional secretion of fibroblast growth factor 2";
Biophys. J. 121 (2022) 76 DOI: 10.1016/j.bpj.2021.11.2302 ⇒ Abstract


2021
J. Mischo, T. Faidt, R.B. McMillan, J. Dudek, G. Gunaratnam, P. Bayenat, A. Holtsch, C. Spengler, F. Mueller, H. Hähl, M. Bischoff, M. Hannig, K. Jacobs:
"Hydroxyapatite pellets as versatile model surfaces for systematic studies on enamel";
bioRxiv (2021) DOI: 10.1101/2021.01.11.426207 ⇒ Abstract
[ ]

C. Spengler, B.A. Glatz, E. Maikranz, M. Bischoff, M.A. Klatt, L. Santen, A. Fery, K. Jacobs:
"The adhesion capability of S. aureus cells is heterogeneously distributed over the cell envelope";
bioRxiv (2021) DOI: 10.1101/2021.01.05.425282 ⇒ Abstract
[ ]

C. Spenger, E. Maikranz, L. Santen, and K. Jacobs:
"Modelling bacterial adhesion to unconditioned abiotic surfaces (Mini Review)";
Front. Mech. Eng. 7 (2021) 661370 DOI: 10.3389/fmech.2021.661370 ⇒ Abstract
[ ]

T. Winter, M. Bitsch, F. Müller, S. Voskian, T.A. Hatton, K. Jacobs, V. Presser, M. Gallei:
"Redox-responsive 2-aminoanthraquinone core-shell particles for structural colors and carbon capture";
ACS Appl. Polym. Mater. 3 (2021) 4651 DOI: 10.1021/acsapm.1c00746 ⇒ Abstract
[ ]

G. Gunaratnam, J. Dudek, P. Jung, S. L. Becker, K. Jacobs , M. Bischoff, M. Hannig :
"Quantification of the Adhesion Strength of Candida albicans to Tooth Enamel";
Microorganisms 9 (2021) 2213 DOI: 10.3390/microorganisms9112213 ⇒ Abstract
[ ]

C. Spengler, F. Nolle, N. Thewes, B. Wieland, P. Jung, M. Bischoff, K. Jacobs,:
"Using Knock-Out Mutants to Investigate the Adhesion of Staphylococcus aureus to Abiotic Surfaces.";
Int. J. Mol. Sci. 22 (2021) 11952 DOI: 10.3390/ijms222111952 ⇒ Abstract
[ ]

F. Nolle, A. Griffo, K. Kochems, M. Lienemann, P. Laaksonen, R. Seemann, J.-B. Fleury, K. Jacobs, H. Hähl,:
"Pure protein bilayers made from fungal hydrophobins: characteristics and chances for usage";
European Biophysics Journal (conference contribution) 50 (2021) 171


A. Griffo, J.-B. Fleury, K. Jacobs, W. Nickel, R. Seemann, F. Nolle, C. Sparn, H. Hähl:
"Insights on the effect of cholesterol and sphingomyelin on tension and elasticity of plasmalike freestanding model membranes from natural lipids";
European Biophysics Journal (conference contribution) 50 (2021) 134


2020
2019
2018
2017
2016
C. Zeitz, T. Faidt, S. Grandthyll, H. Hähl, N. Thewes,C. Spengler, J. Schmauch, M. J. Deckarm, C. Gachot, H. Natter, M. Hannig, F. Müller, K. Jacobs:
"Synthesis of hydroxyapatite substrates: bridging the gap between model surfaces and enamel";
ACS Appl. Mater. Interfaces 8 (2016) 25848 ⇒ Abstract
[ ]

B. Kann, C. Spengler, K. Coradini, L. A. Rigo, M.L. Bennink, K. Jacobs, H.L. Offerhaus, R.C R. Beck, M. Windbergs:
"Intracellular Delivery of Poorly Soluble Polyphenols: Elucidating the Interplay of Self-Assembling Nanocarriers and Human Chondrocytes";
Analytical Chemistry 88 (2016) 7014 ⇒ Abstract
[ ]

J.D. McGraw, T. S. Chan, S. Maurer, T. Salez, M. Benzaquen, E. Raphaël, M. Brinkmann, K. Jacobs:
"Slip-mediated dewetting of polymer microdroplets";
PNAS 113 (2016) 1168 ⇒ Abstract
[ ] weitere Informationen

2015
2014
2013
2012
2011
F. Müller, S. Grandthyll. C. Zeitz, K. Jacobs, S. Hüfner, S. Gsell, M. Schreck:
"Epitaxial growth of graphene on Ir(111) by liquid precursor deposition";
Phys. Rev. B 84 (2011) 75472 ⇒ Abstract
[ ]

2010
2009
O. Bäumchen, R. Fetzer, K. Jacobs:
"Reduced interfacial entanglement density affects the boundary conditions of polymer flow";
Phys. Rev. Lett. 103 (2009) 247801 ⇒ Abstract
[ ]

O. Bäumchen, R. Fetzer, A. Münch, B. Wagner, K. Jacobs:
"Comprehensive analysis of dewetting profiles to quantify hydrodynamic slip";
IUTAM Symposium on advances in micro- and nanofluidics, (2009) 0 ISBN: ISBN 2-906831-76-X ⇒ Abstract
[ ]

2008
2007
2006
2005
G. Huber, H. Mantz, R. Spolenak, K. Mecke, K. Jacobs, S. N. Gorb, E. Arzt:
"Evidence for capillarity contributions to gecko adhesion from single spatula nanomechanical measurements";
PNAS 102 (2005) 16293 ⇒ Abstract
[ ]

R. Fetzer, K. Jacobs, A. Münch, B. Wagner, T. P. Witelski:
"New slip regimes and the shape of dewetting thin liquid films";
Phys. Rev. Lett. 95 (2005) 127801 ⇒ Abstract
[ ]

R. Seemann, S. Herminghaus, C. Neto, S. Schlagowski, D. Podzimek, R. Konrad, H. Mantz, K. Jacobs:
"Dynamics and structure formation in thin polymer melt films";
J. Phys.: Condens. Matter 17 (2005) 267 ⇒ Abstract
[ ]

K. Jacobs, R. Seemann, H. Kuhlmann:
"Trendbericht Mikrofluidik";
Nachrichten aus der Chemie 53 (2005) 300


2004
K. Jacobs, R. Konrad, H. Mantz, D. Podzimek, A. Quinn, M. Meier, A. Nagel, O. Bäumchen:
"Von Tropfen und Flüssigkeiten: Strukturbildung und Dynamik in makromolekularen Filmen";
Magazin Forschung, Universität des Saarlandes 2 (2004) 2


C. Neto, K. Jacobs:
"Dynamics of hole growth in dewetting polystyrene films";
Physica A 339 (2004) 66 ⇒ Abstract
[ ]

2003
2002
S. Herminghaus, R. Seemann, K. Jacobs:
"Generic morphologies of viscoelastic dewetting fronts";
Phys. Rev. Lett. 89 (2002) 56101 ⇒ Abstract
[ ]

C. Priest, K. Jacobs, J. Ralston:
"A novel approach to the formation of smooth gold surfaces";
Langmuir 18 (2002) 2438 ⇒ Abstract
[ ]

S. Schlagowski, K. Jacobs, S. Herminghaus:
"Transient pattern formation during the phase transitions of thin liquid crystalline films";
Europhysics Lett. 57 (2002) 519 ⇒ Abstract
[ ]

2001
2000
K. Jacobs, R. Seemann, K. Mecke:
"Dynamics of structure formation in thin films: A special spatial analysis', Edts. D. Stoyan and K. Mecke Series 'Lecture Notes in Physics', Vol. 'Statistical Physics and Spatial Statistics'";
Springer, Heidelberg (2000) 0 ISBN: 3-540-67750-X ⇒ Abstract
[ ]

K. Jacobs:
"Nanotomographie: Einblick in die Schuhsohle";
Phys. Bl. 56 (2000) 13


S. Herminghaus, A. Fery, H. Gau, K. Jacobs, W. Mönch, T. Pompe, R. Seemann, S. Schlagowski:
"Liquid microstructures at solid interfaces";
J. Phys.: Cond. Mat. 12 (2000) A57 ⇒ Abstract
[ ]

1999
K. Jacobs, S. Herminghaus:
"Strukturbildung in dünnen Filmen";
Phys. Bl. 55 (1999) 35 DOI: 10.1002/phbl.19990551211 ⇒ Abstract
[ ]

1998
S. Herminghaus, K. Jacobs, K. Mecke, J. Bischof, A. Fery, M. Ibn-Elhaj, S. Schlagowski:
"Spinodal dewetting in liquid crystal and liquid metal films'";
Science 282 (1998) 916 ⇒ Abstract
[ ]

K. Jacobs, R. Seemann, G. Schatz, S. Herminghaus:
"Growth of holes in liquid films with partial slippage";
Langmuir 14 (1998) 4961 ⇒ Abstract
[ ]

K. Jacobs, S. Herminghaus, K.R. Mecke:
"Thin liquid polymer films rupture via defects";
Langmuir 14 (1998) 965 ⇒ Abstract
[ ]

K. Jacobs, H. Gau, S. Schlagowski, W. Mönch, T. Pompe, A. Fery, S. Herminghaus:
"Dynamics of dewetting and structure formation in thin liquid films";
Proc. European Coating Symposium 'Euromech 367' (Strasbourg, 22-25 July 1997) (1998) 392 ISBN: 2-909932-56-7


1997
U. Kohl, M. Dippel, G. Filleböck, K. Jacobs, B.-U. Runge, G. Schatz:
"Local magnetism of ultrathin fcc-Co films on Cu(100) investigated by In probes";
Surface Science 407 (1997) 104 ⇒ Abstract


K. Jacobs:
"Stabilität und Dynamik flüssiger Polymerfilme";
UFO-Verlag Allensbach (1997) 0 ISBN: 3-930803-10-0


B.-U. Runge, M. Dippel, G. Filleböck, K. Jacobs, U. Kohl, G. Schatz:
"Induced magnetic hyperfine field at Ag sites near a Fe(100)/Ag(100) interface";
Physical Review Letters 79 (1997) 3054 ⇒ Abstract


1993
G. Krausch, R. Fink, K. Jacobs, U. Kohl, J. Lohmüller, B. Luckscheiter, R. Platzer, B.-U. Runge, U. Wöhrmann, G. Schatz:
"Surface and interface studies with perturbed angular correlations";
Hyperfine Interactions 78 (1993) 261 ⇒ Abstract


R. Fink, B.-U. Runge, K. Jacobs, G. Krausch, B. Luckscheiter, R. Platzer, U. Wöhrmann, G. Schatz:
"Compound formation at Pd(100)/In-interfaces";
Hyperfine Interactions 78 (1993) 309 ⇒ Abstract


G. Schatz, R. Fink, K. Jacobs, U. Kohl, G. Krausch, J. Lohmüller, B. Luckscheiter, B.-U. Runge, U. Wöhrmann:
"Nuclear probes for surface characterization";
Physica Scripta 49 (1993) 554


R. Fink, B.-U. Runge, K. Jacobs, G. Krausch, J. Lohmüller, B. Luckscheiter, U. Wöhrmann, G. Schatz:
"Indium adsorption sites at Pd(100)-surfaces";
J. Phys.: Condensed Matter 5 (1993) 3837 ⇒ Abstract


G. Krausch, R. Fink, K. Jacobs, B. Luckscheiter, J. Lohmüller, B.-U. Runge, U. Wöhrmann, G. Schatz:
"Indium adsorption on silicon surfaces: A PAC study";
Surface Science 285 (1993) 81 ⇒ Abstract


1992
G. Krausch, K. Jacobs, R. Fink, J. Lohmüller, B. Luckscheiter, B.-U. Runge, U. Wöhrmann, G. Schatz:
"Microscopic observation of a superstructure phase transition: In/Si(100)";
Europhys. Letters 19 (1992) 611 ⇒ Abstract
[ ]